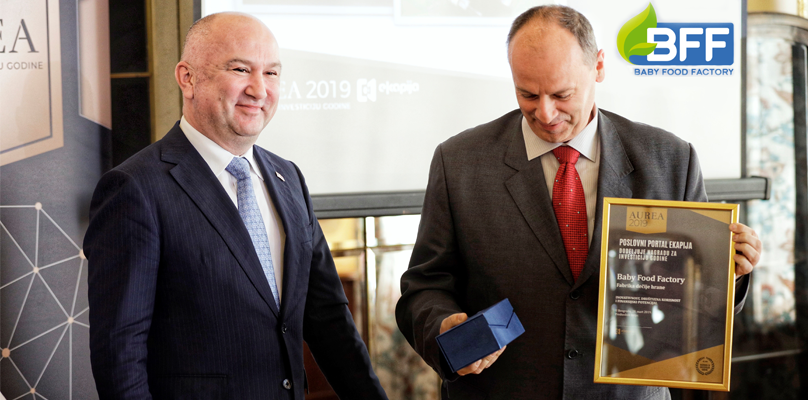 Baby Food Factory – Investment of the year
Baby Food Factory won the "Aurea 2019" prize for the investment of the year in…
Baby Food Factory won the "Aurea 2019" prize for the investment of the year in Serbia, which business portal eKapija has been awarding for 11 years now. The award was presented to the executive director of company Željko Ciganović, by Nenad Popović, Minister of Innovation and Technological Development in the Serbian Government.
Each year, the award is given to the company that in the past 12 months realized an innovative, socially useful and financially profitable project in Serbia.
"The award for the investment of the year is a special recognition and proof that the Baby Food Factory has been recognized as a project that contributes to the return of the domestic baby food industry to the place it deserves, as well as to the improvement of export potentials in this segment. This investment is indeed a significant breakthrough in the local baby food market because we have brought new standards in production and we offer high quality and healthy baby food to consumers. Our products are already on their way to the markets of the region and the Commonwealth of Independent States. Having in mind that only the first phase of investment is over, in the years ahead we can expect additional investments, expansion of assortments and opening of new markets. We are particularly proud of the fact that this is a domestic investment, thanks to which we have a modern factory in our country equal with the big world producers and offer the highest quality to parents and youngsters," said Željko Ciganović, CEO of Baby Food Factory while receiving the award.
Baby Food Factory is officially opened in Dobanovci on 29.10.2018. This greenfield investment makes it one of the biggest investments in Serbia last year and the biggest domestic investment. The factory's opened once the ribbon was cut by the young factory owners from the Sočanac, Šaponjić, and Vuković families.