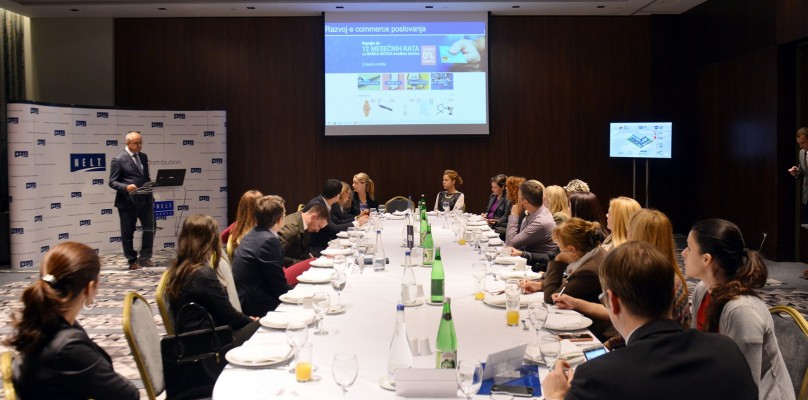 Nelt Announces Turnover Growth of 28.5% in 2016
Three years after consolidating all its subsidiaries' operations, Nelt Group announced significant business results at a breakfast event organized for media representatives on October 12.
In 2015, the company saw a sales volume of EUR 702 million, while the organic growth and contracts with new principals and customers, as well as launching new business operations, increased Nelt Grupa's number of employees in 2015 by 250. Revenue is expected to grow by 28.5% by the end of the year. Today, the 12 companies under Nelt Group employ nearly 4,000 people in seven markets, making it one of the most successful domestic business systems.
Nelt is a leader in providing top services in distribution, logistics, manufacturing, and trade marketing. New partnerships with Bambi in Bosnia and Herzegovina, Hipp in Macedonia, as well as new distribution centers in Bijeljina, Podgorica, and Luanda, and its cooperation with Lactalis in the field of logistics services positively affected the company's revenue and reputation. In order to respond to customer needs in the best possible way, last year the company acquired Tako Lako Shop, which in the meantime became the largest online retail platform in Serbia. In accordance with global standards in corporate social responsibility, Nelt has joined the United Nations Global Compact and published its first report on sustainable business titled "Distribution with care".
"Applying new technologies in all our activities and professionally responding to the needs of our customers and principals turned us into a successful and recognizable business system. Our obvious dedication to business is the best recommendation for new partnerships, as well as for long-term ones that are already established. Our values are also an indicator of the positive mentality of our employees, who are a key factor in our success," says Miloš Jelić, CEO of Nelt Grupa.
Growing the number of our principals, better positioning in the logistics market, geographic expansion, and continued investment in development represent the strategic pillars that will secure reliable operations of Nelt Group in the future. The company strives to use organic growth to maintain stability, continue to invest in the development and training of personnel; expand portfolios, production, and service capacities of all the companies in the system; and contribute to the improvement of the local communities in which it operates.