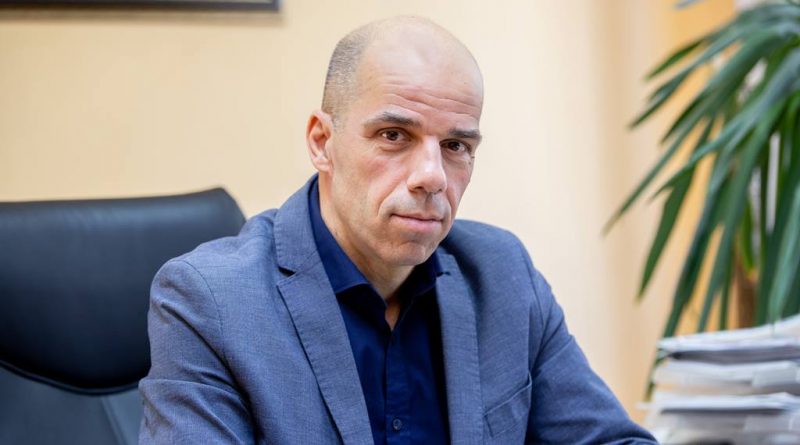 [INTERVIEW] Zeljko Beslic Talks to Magazine Pluton Logistics
The company Public Warehouses Subotica (PWS) is an expert in provision of forwarding, warehousing and other logistic services in the territory of  Subotica and the wider region, with a sixty-year long tradition. From 2008 the PWS have been operating within the Nelt Group, one of the largest and most successful business systems in the Western Balkans.
Thanks to its position, size of the storage area, developed infrastructure and professional staff, Public Warehouses Subotica have, during the six decades of successful operations, become a symbol of reliability, quality and safety. 34 employees tend to  the impeccable functioning of all processes and thanks to its warehouse capacities and parking space for  cargo-carrying motor vehicles, industrial track and customs office, the PWS provide services to over 1,400 business partners. On the annual level they perform around 4,500 operations – from reception and reloading to dispatch and other warehouse activities.
The previous year was full of challenges. Care was primarily  focused on the health of employees and service users, and hence all preventive measures were undertaken. Although the COVID-19 pandemic imposed new circumstances, good business results were achieved, especially in the segment of warehousing, where over 135,000 tons of various goods were handled, which presents a huge success, stated Zeljko Baslic,  Manager of Public Warehouses Subotica  at the beginning of his interview with Pluton Logistics.
PL: Who are the service users of PW Subotica? What kind of goods are stored in your warehouses and what volume of  goods pass through them?
– The Public Warehouses Subotica present a reliable partner for over 1,400 users. Various kinds of goods, from the country and abroad, arrive to our warehouses by road and rail, by trucks and freight car wagons. We have at our disposal 25,000 m2 of storage space and over 27,000 m2  of parking space intended for cargo-carrying vehicles.
According to estimations, each  month over 11,000 tons of various kinds of products – from consumer products to machines, artificial fertilizers,  devices and other different equipment pass through our  warehouses. We provide warehouse services in storage space with room temperature as well as storage space with different temperature regimes. The warehouse capacity registered in the HACCP system amounts to  2,850 m2.
PL: The custom terminal is located on the PWS site  within which the Customs Offices of the Public Warehouses Subotica  operates.  How important is the partnership with the Customs,  which has lasted for over 50 years?
– Thanks to its impressive warehouse capacity, parking space on which 200 truck can at the same time be parked daily, double rail tracks, gates for reloading and unloading of goods, the Public Warehouses  Subotica has for over half a century, presented a reliable partner to one of the most efficient Customs Offices in Serbia. There are also  warehouses under Customs supervision and offices in which Customs Officers perform their activities. We have an excellent business cooperation with inspection and supervisory services in the strict application and implementation of legal regulations, as well as with forwarders, transporters and other subjects who wish to entrust their foreign trade business operations to a team of experienced professionals.
PL: The beginning of the year is always a good time to talk about plans. What shall  the Public Warehouses Subotica be focused on in 2021?
– From 2008 Public Warehouses Subotica are a part of Nelt Group, a Company with  4,000 employees working in 15 companies on 11 markets of Europe and Africa. The fact that we are part of a corporation of such reputation presents a huge advantage, but also carries a large responsibility. For all our partners, it presents an additional confirmation of reliability, safety and quality of services.
Thanks to the strategic position and close vicinity of the European Union, as well as excellent cooperation which we have had for over half a century with the Customs, the Public Warehouses of Subotica present a reliable partner to a large number of satisfied users. That is why we shall also, during  2021, try to justify the trust and strengthen the cooperation with all key partners, especially with the Customs.
PL: Nelt Group has singled out logistics as an important pillar of operations in the future period and has recently been announced that significant investments have been planned in Subotica. Please tell us more about this.
– The planned investments of Nelt Group in 2021 amount to over € 10 million, primarily in the expanding of the intermodal terminal in Dobanovci, but also in other ecological, technological and transport operational segments.
The crisis which has marked the previous year has actually opened a new business dimension. It has more than ever become of vital importance to be a reliable and high-quality player on the market, which is something that the Public Warehouses Subotica insist on. We have been awarded the "Trustworthy Company" certificate for 2020, presented  by the Client Opinion Survey Center. This additionally speaks of the trust which we enjoy among our partners and service quality which we provide. The investments we are contemplating, primarily relate to the expansion and modernization of facilities and equipment in order for us to raise our services to a higher level, as is expected from us.
PL: Intermodal transport is a segment which is becoming more and more interesting in Serbia, and Subotica is  a particularly suitable location for investment in this field. What are your expectations?
– Limitations which we have faced during the corona crisis additionally  encouraged an even more intensified our focus on intermodal transport. Nelt Group has recognized this trend, which is why we shall, in the coming years, invest in the expanding of  intermodal terminal capacities in Dobanovci. In view of its location and close vicinity of the European Union, it is evident that Nelt Group shall also expand its capacities in Subotica, especially bearing in mind the rail connections,  storage space with different temperatures and regimes, as well as employees who are rendering the highest quality services. Interest in the development of  the location in Subotica is highly justified and certain. Apart from Subotica various other locations, such as Nis, are also contemplated in view of the corridor  leading to Kosovo, Albania and the Durres harbor. By all means in front of us are ambitions plans, and this year shall definitively be marked by investments.
PL: You have recently celebrated 60 years of successful business operations. What are the values on which you have built your long-standing reputation and what is the key to your success which has lasted for decades?
– The quality of services, efficient realization and professional approach to all business activities – these are our strong points. The number of associates and clients speaks in favor of the perseverance with which we have built  our reputation and prestige, driven by these values. We wish to be a reliable partner, responsible employer and stable support to the local community.
PL: The previous year has highlighted the fact that business results are not enough for success if all of us do not work together for the wellbeing of the entire community. The PWS have marked the beginning of the New Year with a big humanitarian  campaign. Are you planning to continue in this manner?
– The year behind us was extremely complex and required from us additional efforts in order to overcome all of the challenges.  It was highly important for us to maintain the quality of our services and reputation of a reliable partner, but at the same time to  also preserve the safety and health of our employees.
As a part of Nelt Group, to whom sustainable business presents the grounds for all of its business plans, we apart from care for our employees, which has during the last months gained an even stronger dimension,  wish to be a stable and reliable support to the community in which we operate. We have marked the end of  the previous year in the best possible manner – by donating aid to the Home for Disabled Children "Cradle". In agreement with this institution, pertaining to the priority needs of its users, we have provided aid in food and products for personal hygiene, in the value of over RSD 1,000,000. Regardless of how difficult the previous months were, from this perspective, I am very proud of our colleagues, of the awareness, professionalism and responsibility they have  shown towards their business tasks and each other. We are ambitiously entering the year 2021, because we know that all our plans are founded on strong grounds – service quality and reliability for which we are famous.
Downloaded from: www.plutonlogistics.com