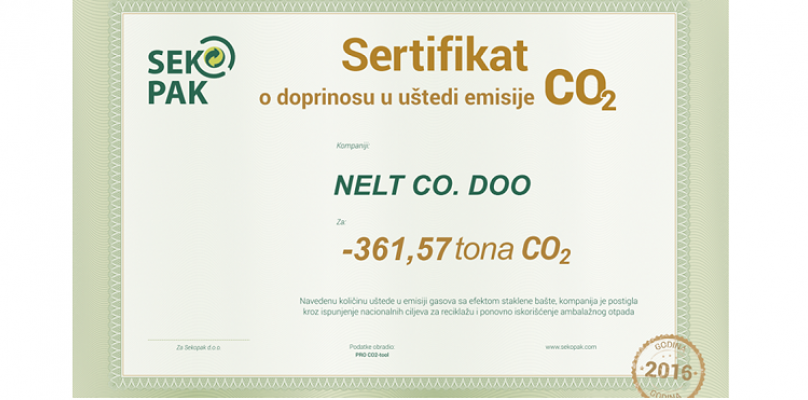 Certificate on reduction of harmful CO2 gas emissions
Nelt takes care of environment.
Nelt is part of the packaging waste management system through an authorized operator, Sekopak. In 2016, Nelt made remarkable contributions, ensuring reuse of a total of 1,161.88 tons of packaging waste. That way, both the general and each specific targets for 2016 have been successfully met. Thanks to the reported performance, Nelt has been awarded the Certificate on CO2 emission reduction.
The CO2 emission reduction certificate demonstrates to the company (to which it is awarded) its contribution to reducing / increasing the amount of external emissions of harmful CO2 gases annually (the so-called Greenhousegas – GHG balance).
With the company participating in the waste packaging management system, the quantity of packaging waste that ends up at landfills is reduced, and therefore the amount of CO2 emissions reduced. Total packaging waste which Nelt placed on the market of the Republic of Serbia in 2016 was 2.509 tons.
Employees of Nelt continually demonstrate their readiness to participate in this initiative. Established eco-islands in CDC Dobanovci enable them to collect cardboard, paper, PET packaging, metal and glass, separating that waste from the rest which can not be recycled.
As a reminder, in 2016, the Republic of Serbia, by implementing the "Extended Responsibility of the Manufacturers" saved 26.922 t of CO2, with Sekopak's share being 20.946 t CO2 (78%).