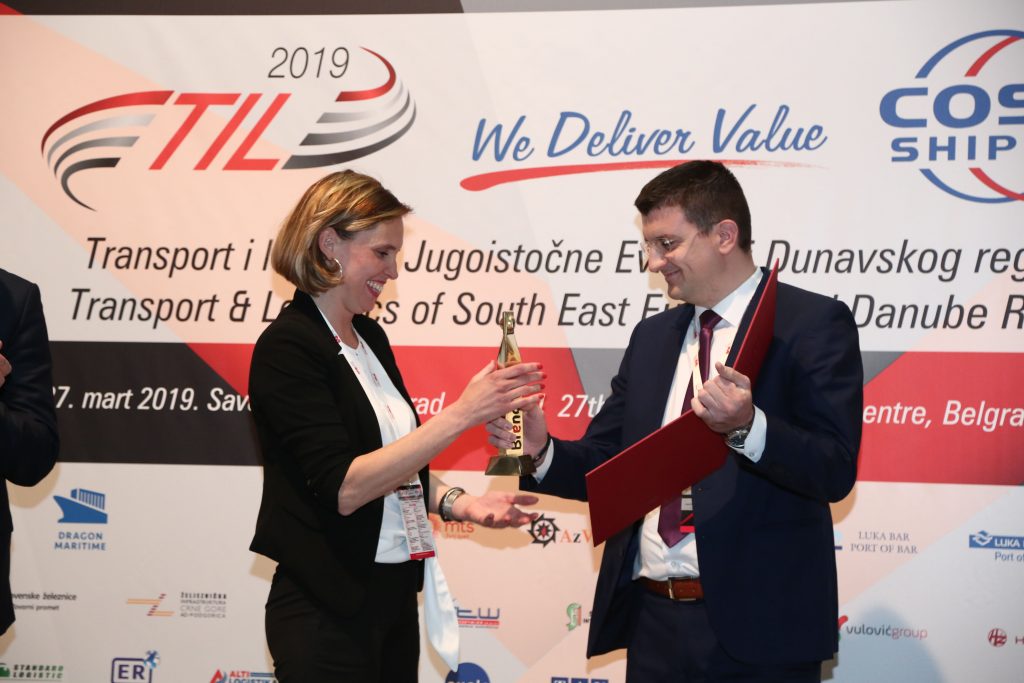 Recognition for "One belt, one road" project contribution
At this year's business conference "Transport and Logistics 2019", Nelt was awarded the "Brand Leader Award 2019" for outstanding cooperation and contribution to the development of the Chinese project   "One Belt One Road".
The prize is established by Dragon Maritime Group, a representative of the logistics giant of the Chinese company COSCO, and is based on a set of standardized criteria which includes professionalism, innovation and a high degree of market recognition.
COSCO, partner of Nelt since 2017, is one of the main contractors of China's national project "One Belt One Road" which envisages the strategic connection of the port of Piraeus with various destinations in the Balkans and the countries of Central Europe. Nelt's intermodal terminal in Belgrade has become the Balkan logistics hub thanks to its excellent location, technical and technological advantages.
"Since the terminal was opened two years ago, more than 300 compositions passed through the business complex in Dobanovci and 25,000 manipulations with more than 15,000 TEU have been carried out. Transport of containers by rail between Dobanovci and ports of Rijeka, Piraeus and the terminal in Hungary are also realized," said Jelena Jovanić, Manager of the Intermodal Terminal, while receiving the award on behalf of Nelt.
The terminal is open to all market players in import, transit and export flows, from shipping companies and railway operators, to logistics, freight companies, manufacturers, brand owners and other distributors. It is connected with all European ports and land terminals. Highways E-75 and E-70 are intersecting six kilometers from the terminal, while Nikola Tesla Airport is ten kilometers away. As part of Nelt's logistics center operates a customs office with warehouse, providing full support and flexibility to various processes and flow of goods. The set of logistic services initiated by the activation of the intermodal terminal allows clients to reduce logistic costs, and provides them with a faster, safer and more quality transport service.