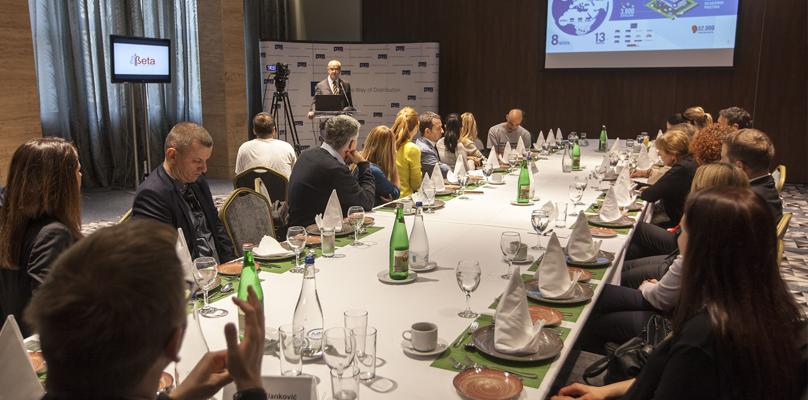 Annual breakfast with journalists
Journalists were able to learn about current news from the Nelt Group.
Annual breakfast with journalists, traditionally organised by the company Nelt, was held on October 18, at the Belgrade hotel Metropol. Journalists were able to learn about current news from the Nelt Group business operations and to inform themselves, through an open dialogue with members of the management, about key projects of the companies which are part of the Group.
Miloš Jelić, executive manager of Nelt Group, announced that the plans for 2017 had been achieved and summarized successful operations of members of our company with these words: "We build our success on excellence in service provision…. commitment of employees and application of new technologies. We shall continue with further positioning in the market for logistical services, geographic expansion and further investments in development. Investments in education of employees, production and service provision capacities of all companies within our system and improvement of cooperation with local community shall remain our focus in the future as well ".
Milan Radivojević, business development manager of Nelt Group, explained the complete solution systems in distribution, presenting key strategic directions for further development of the Group, new brands and successful results of the companies Banim and TakoLako, Nelt's recent acquisitions.
Dragana Škrbić, Supply chain manager of Nelt Group announced 15 million Euros worth of investments for 2018, intended for development of new services in the markets, construction of 22.000 m2 of storage and office premises in Belgrade and Sarajevo, implementation of new technologies in inventory planning, transport and storage as well as in personal and professional development of employees. The goal is to create a regional logistical network which is already being implemented through cooperation with the German giant, company Dachser.
The transformation process undertaken by our company and its goals were explained by Nikola Ćorsović, strategic planning manager at Nelt. He pointed out the importance of taking the opinion of employees into consideration when adopting key decisions. As an example, he mentioned the research of our organisation's health which we implemented during 2017, using the methodology of McKinsey & Company by comparing ourselves with the top 1200 global companies.
The journalists were especially interested in African markets, where Nelt is also conducting business, position of Neoplanta in the current market circumstances and an assessment of impact of crisis in Agrokor on regional retail trade.