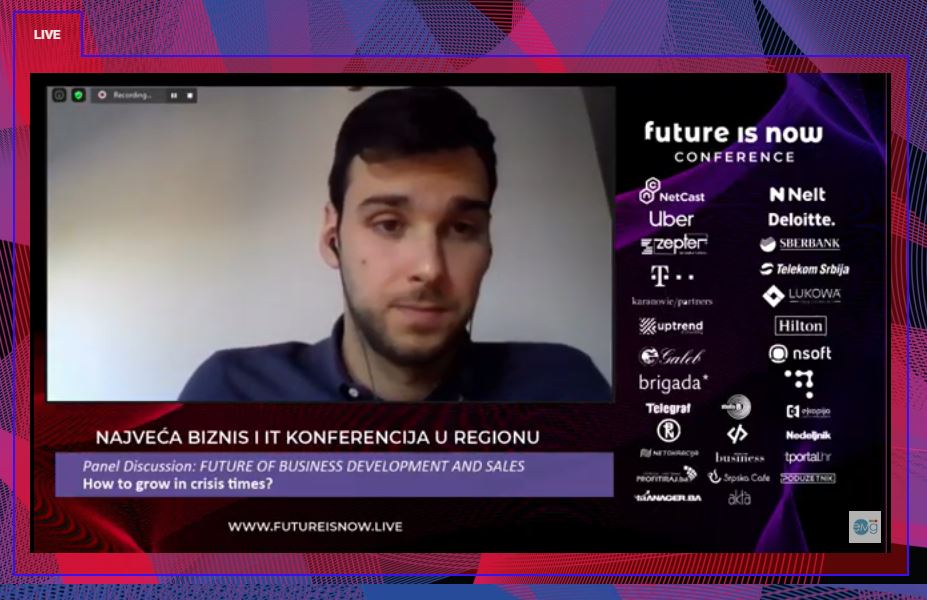 Aleksa Saponjic: "We have become omni-channel sales pioneers in the Serbian FMCG sector"
Aleksa Saponjic on behalf of Nelt at the "Future is Now" conference.
At the "Future is Now" conference Aleksa Saponjic (Aleksa Šaponjić) Operational Excellence Manager spoke on ways of maintaining planed growth in circumstances caused by the COVID-19 crisis, the need for innovations and digitalization in business operations, change in consumer habits, inevitability of change of "Go-to-Market" sales model as well as the general effect of the pandemic on sales.
"During the crises caused by the COVID-19 pandemic, we were of the opinion that it was necessary to, regardless of their volume, enable all our customers to order goods – via operators, application and personally. Instead of reducing the number of sales sites which we supply, we decided to expand our distribution network.
We became pioneers in omnichannel sales on the Serbian market in the FMCG sector, and in this manner ensured continuous availability of our entire product portfolio to customers", emphasized Aleksa.