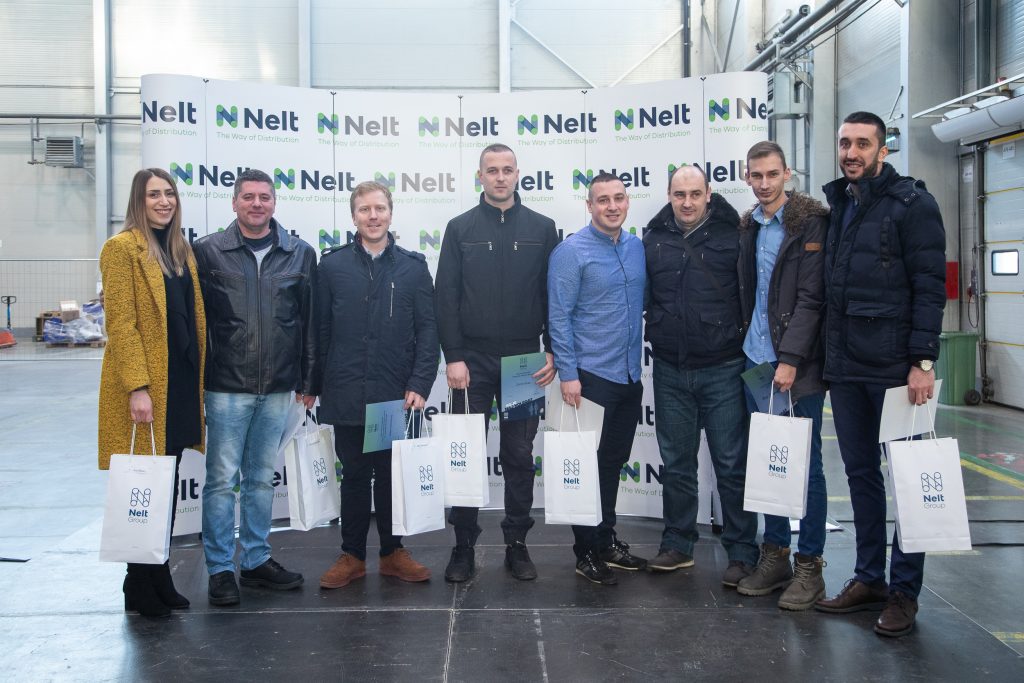 Awarded Employees in Serbia
Winners of "Praise your Colleague" campaign were announced for the year 2019.
At this year's Town Hall Meeting of Nelt's Employees, held on February 6th, winners of "Praise your Colleague" campaign were announced for the year 2019. 
Same as last year, colleagues were invited to write praises pertaining to company values which they recognize in their best colleagues. The new year set a new record. On the Group level, 3,300 praises arrived, which is almost 1,500 more than last year. Only in Serbia the number of sent praises amounts to as many as 2.000!
"We are pleased that you recognize the importance of this campaign and that you understand how important it is to reflect on pleasant moments in cooperation with your colleagues", Vanja Popovic and Milica Pavlovic stated, at the end of this year's cycle.
The colleague who received the largest number of praises and who now holds the title "Best Colleague for 2019" is Zoran Šuša. Zoran has been working for 9 years in the warehouse in Dobanovci. He has been recognized by his colleagues of his high spirits, diligence, cordial cooperation accompanied by excellent results.
Congrats to Ana Štrbac on the largest number of praises from different organizational units! Ana has been working for the past 4 years in the Financial Department.
Aleksandar Savić from the warehouse in the city of Novi Sad, received a special award for Best Colleague from regional center. Aleksandar has been working for 12 years in Nelt.
Milan Danilovic, Team Leader of Sales Analysis has been working in Nelt for 3 years, and has received a special award for Inovation, and our colleague Aleksandar Jovanovic, Supply Dispatcher in Belgrade, for Caring Mentality! Aleksandar has been a member of the Nelt team for 8 years.
The special award for lifting up the team spirit has been awarded to Vladimir Obradović and his team: Cross Dock in Valjevo. Has been working in Nelt for almost 7 years.
In Nelt, we are extremely pleased whenever we receive a praise in which an additional creativity effort  was  placed. The author of the most creative praises is  Nikola Savić, from the P&G Division. Nikola has already been working in Nelt for 6 years.
Since last year, PULS application is being used internally. Through this app, employees can give scores and comments on behavior to colleagues and Nenad Stojanović received the best scores and best quality comments! He has been working in Nelt for 5 years and is currently working in the Sales Department.
In company Javna Skladišta Subotica special award was given to colleague Sanja Matijević.