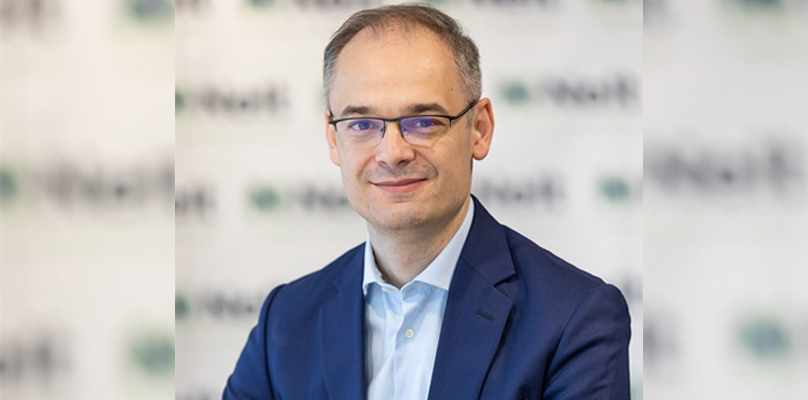 [INTERVIEW] From P&G and Coca-Cola to Nelt
Darko Lukić, Executive Vice-President of Nelt Group
Who is Darko Lukić and how did he come to Nelt?
The first and most important role, which defines me is – a family man. I am the father of Ana and Sofia and the husband of Asija. I see myself as a cosmopolitan – born in Macedonia, of Macedonian mother and Serbian father, married to a Bulgarian wife, who studied and worked in America, Bulgaria, Romania and Switzerland, only to settle in Serbia (I hope for good) in 2017.
I have been acquainted with Nelt for 15 years, from the very beginning of my career. I have always had a high respect for the Company and the people who have developed Nelt into one of the largest and best companies in Southeastern Europe.
I haven't planned to come to Nelt, but after an hour spent with the founders of Nelt Group and the CEO, it immediately became clear to me that Nelt's vision and ambitions matched my profile. Nelt is one of the rare companies in the Balkans in which I would be able to develop long term and utilize skills, knowledge and experience acquired during my career. The rest is history…
What experience are you transposing to Nelt, acquired in large companies in which you had worked, such as P&G or Coca-Cola?
I had spent 12 years in P&G holding different positions in the financial department. Among others, I held the position of Financial Sales Manager for the Balkans (at that time I closely cooperated with Nelt), Financial Manager for Gillette's Supply Chain in Europe, India, Africa and the Near East, and Financial Manager for Gillette for Europe. Then I transferred to Coca-Cola, where I worked for a year and a half as a Commercial Excellence Manager for Serbia and Montenegro, and then two years as Chief of Cabinet and Strategic Project Manager to the Office of the CEO in Switzerland. This was a very prominent and challenging function highly important for my professional career.
Professionally I define myself as a commercial manager who is good with numbers. I have always combined finance and sales in order to create and implement a winning strategy. For example, as a Financial Manager for Gillette, I spent a week with the users of this brand and barbers in rural India, in order to understand their needs, while in Coca-Cola I always relied on financial data as an important element in the creating of commercial strategy.
You have already been in Nelt for a number of months. What are your impressions?
The last 4 months have confirmed what I already knew:
Nelt is a large, healthy and very successful company, with huge plans and ambitions for the future … Ambitions which, I am certain, will be fulfilled and surpassed.
Nelt provides a large space for professional development and is in this respect a leader in Serbia and the region, and…
The Company's success is grounded on an exceptional team of employees, who are, on one hand, leading professionals in their filed, and on the other, nice and good people with whom working is a pleasure.
Nelt with its logistics network, and the deep and high quality distribution it provides, has a competitive advantage over other market players.
We must utilize this advantage, and at the same time, maintain it, by always remaining one step ahead with new sophisticated tools and market approach.
What shall be the scope of your responsibilities and business activities?
The EVP position has not been implemented in order to create an additional complexity or level, but rather to create additional value, focusing on:
– Faster and higher quality work results on key projects within the Group, and
– Quick development of Nelt brands, as a highly important pillar of our strategy and business sustainability.
Apart from this, the EVP position shall be consulted regarding crucial business processes, in order to achieve greater harmonization of key projects, for which the EVP is directly responsible.
Where do you see Nelt in 5 years?
A single word which sums up my vision and desire, pertaining to progress of Nelt Group in the next 5 years, is development. By this I do not mean only conventional growth and development of revenue and profit but rather: development of Nelt's brands through growth and strengthening of existing as well as acquisition and development of new brands, development of new digital solutions in RTM, analytics and daily business activities, development of new skills and knowhow vital for growth and sustainability of our operations, development of new business models and services and potential entry into new business channels and potential development of operations on new markets.